LOCATION
The Pine Ridge Road Farmers Market is located at the corner of Pine Ridge Rd. and Livingston Rd. in Naples, Florida. (In the Starbucks and FirstWatch Plaza) 3370 Pine Ridge Road,  Naples, FL 34105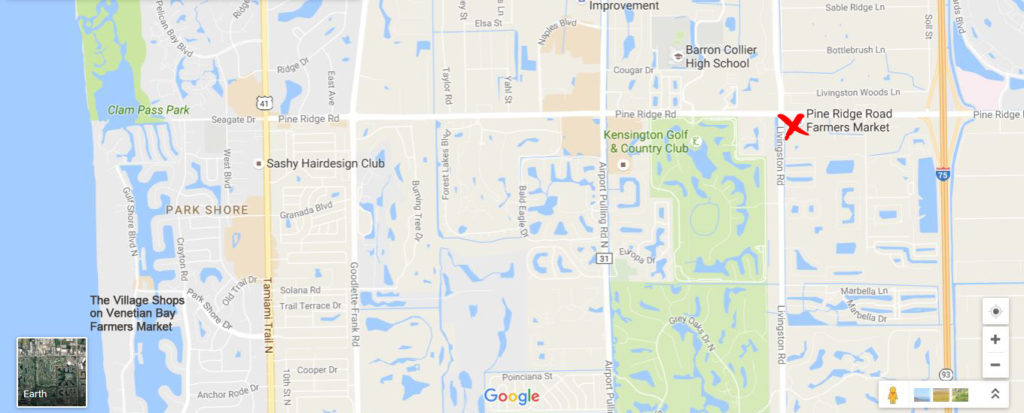 ---
INFORMATION FOR VENDORS:
We are now accepting Applications and Deposits for the 2017-2018 Season at the Pine Ridge Road Farmers Market .

PRICES for the 2017-2018 Season:
$35.00 + TAX for a Single Space / per Sunday
A 4-week minimum deposit ($140 + TAX) is required up front.
---
Download/Print the Pine Ridge Road Farmers Market Application for the 2017-2018 Season.
---
IMPORTANT NOTE
Please read before printing Vendor Application!
All applications and deposits must be submitted to the Market Manager in person. Please text 239-200-4401 or email us at naplesmarketplace@gmail.com to schedule an appointment with the Market Manager.
Vendor must be approved by the Market Manager before acceptance of the Vendor Application and Deposit. Vendor must provide a detailed list of products/services offered at the Market by email or phone. Market Manager will notify Vendor of decision.
Please, do not submit Vendor Application prior to acceptance!
DO NOT send checks to the Farmers Market address!!!
That's the location of the market, not the Market Manager/Owner.
      Thank You!
---